Stay Fit With These Apartment Workout Tips In Fishers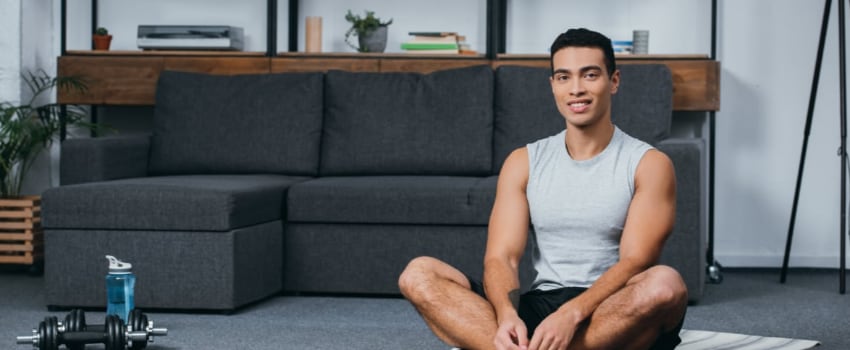 Maybe one the most enticing apartment amenities is the fitness center. There you will be able to use treadmills and stationary bikes, free weights or gym machines, and a range of other training tools to improve your health. If you're looking for a vigorous training session or a quick 15-minute jog, it's convenient to pop over to the gym and complete your regimen. It's even more convenient if your apartment community has an exercise area that's open all hours of the day.
However, there might be times when your busy life won't permit a session at the workout center. Fortunately, if you're not able to make it to the gym, you can do your exercises from the convenience of your home. Do your best with these tips for limited area activities and improvised weights or equipment during your apartment workouts in Fishers.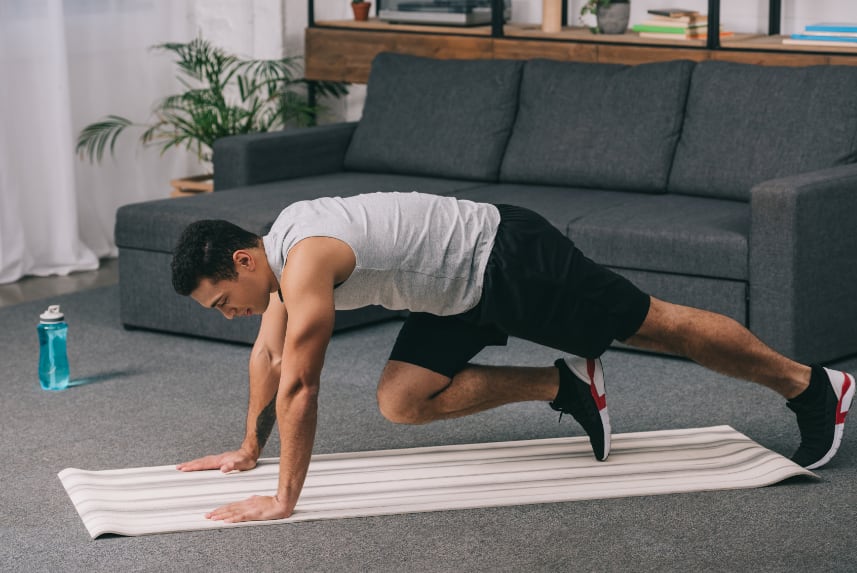 Boost Your Heart Rate With Small Space Cardio Workouts
A primary obstacle of training in an apartment is the limited area. If you have an open room in your multi-bedroom apartment, you can fashion a your own makeshift gym, but not all Fishers apartments have room for things like treadmills or ellipticals. Fortunately, many cardio exercises don't require equipment or much space to get your blood pumping.
To start your apartment workout, move to an open spot in your apartment layout where you don't have to worry about knocking something over. You only need enough space to move freely or lay down without bumping something. Move tables and chairs over a a foot or so if you need to.
When you have some space, try some common cardio drills, such as:
Jumping jacks

Lunges

Burpees

Mountain climbers

Standing toe touches

High knees
Practice these exercises for the recommended 30 minutes a day, and you'll be sweating as you do on the stair climber or elliptical. If you need a guide, use an online workout video or invest in an exercise-centered video game.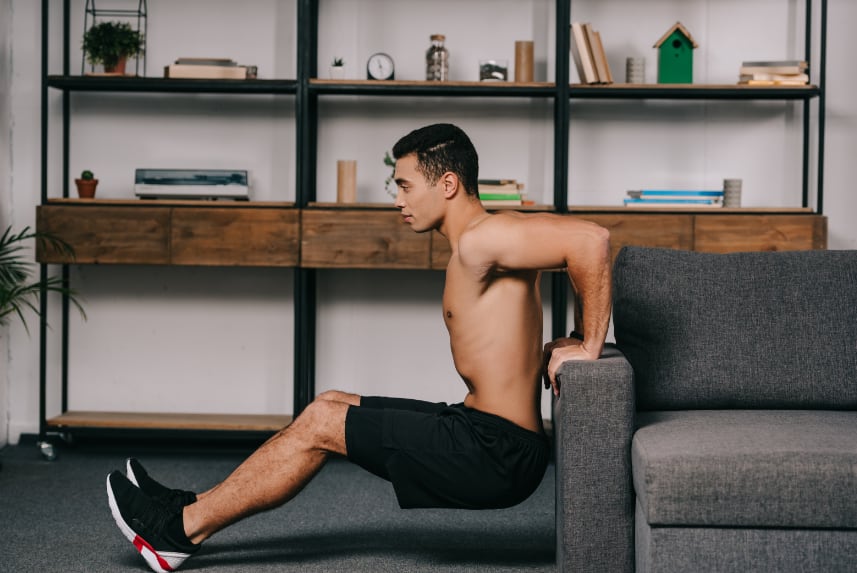 Build Strength With Quiet Bodyweight Resistance Exercises
Noise creates another issue with apartment workouts in Fishers when you share walls with other Residents. If you reside directly above neighbors, they probably won't appreciate hearing your early morning jumping jacks.
Try bodyweight resistance exercises instead. These easy movements strengthen muscles and joints which leads to improved mobility. When comparing to your cardio regimen, many bodyweight resistance exercises won't require you to jump around. Find an open space within your unit and try quieter exercises, like the following:
Push-ups

Air Squats

Sit-ups

Wall Sits

Single-leg balances

Glute bridges

Straight-leg calf raises

Spider crawls
Improve Your Health With Yoga And Do It From Anywhere
Many exercises like yoga and pilates are smart options to train in small spaces because you only need an area the size of your mat. This provides ample freedom for places you can exercise to boost your flexibility, balance, and total health. Try these routines with fresh air on your balcony, in your living room, or in your bedroom. There are even yoga moves that can be done directly on your mattress!
You can get creative with workout accessories too. If you lack space to keep extra items, try robe ties as bands, food cans for weights, and firm cushions for yoga blocks.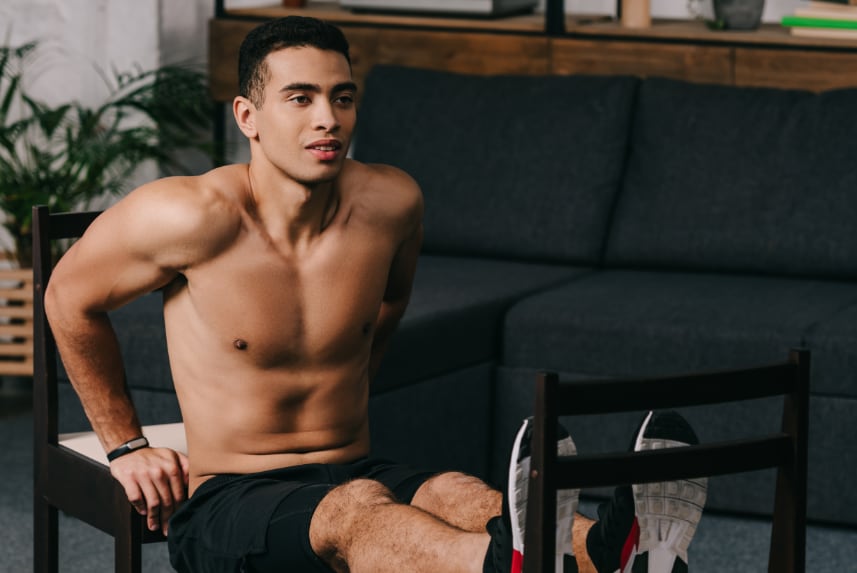 Bring Some Versatility To Your Fishers Apartment Workouts With Makeshift Equipment
Exercising loses its appeal and effectiveness when you do the same routine every day. Add variety to your new small-space exercise routine by incorporating weight lifting. You don't need a full set of weights or bulky equipment. Just use what you have around your apartment, like:
Heavy books

Laundry detergent bottles

Packaged dog food

12- or 24-packs of beverages

Bags of beans or rice

A tote bag filled with cans

A gallon of milk
When you can't seem to get over the lack of gym equipment, consider using your furniture. Sofas and dining chairs can offer a solid base when lifting weights or balancing. Using makeshift equipment for your Fishers apartment workouts could seem strange when you start, but don't let that get in the way of your fitness goals. With a little practice, you can create an effective workout routine to do at your apartment in the event the fitness center is closed.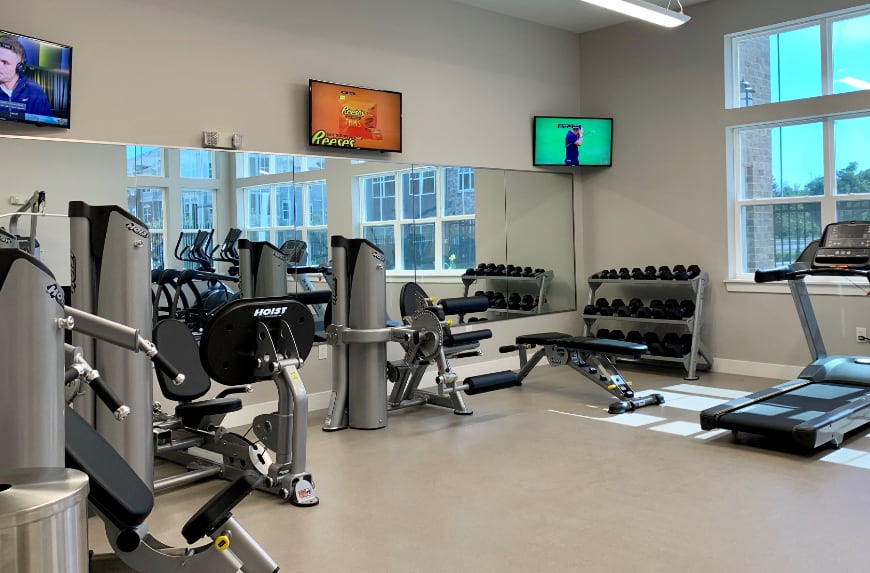 Bring Your Active Lifestyle To The District at Saxony Apartment Homes In Fishers
When trying to find the most suitable place for your physical fitness needs, come check out The District at Saxony Apartment Homes. We provide units with plenty of square footage, exciting amenities, and a fitness facility with flexible hours to meet the demands of your schedule. Our Leasing Specialists are ready to help you find the perfect apartment. Make an appointment today by dialing 317-576-3057 or by using the "schedule a tour" button.